Cook time:
15 – 20 minutes
Introduction
About this Recipe
By: Linda Eads
Shrimp Saganaki is a quick and easy Greek appetizer that is often served with crusty bread. Enjoy scooping up the savory tomato sauce and yummy olives.
For a gluten-free main course, serve on a bed of cooked zucchini noodles, rice, or quinoa instead.
3 Tbsp. extra virgin olive oil
2-3 large cloves garlic, finely chopped
1 medium red onion, finely chopped
¼ C. dry white wine
1 15-oz. can crushed tomatoes
½ C. Kalamata olives, chopped
1 tsp. dried dill
1 tsp. dried Greek oregano
½ tsp. crushed red chili flakes
Calizo Italian Seasonings, to taste
Sea salt and black pepper, to taste
1 lbs. (16/20 ct) large shrimp, peeled and deveined
3 Tbsp. fresh parsley leaves, chopped and divided
4 oz. Feta cheese, crumbled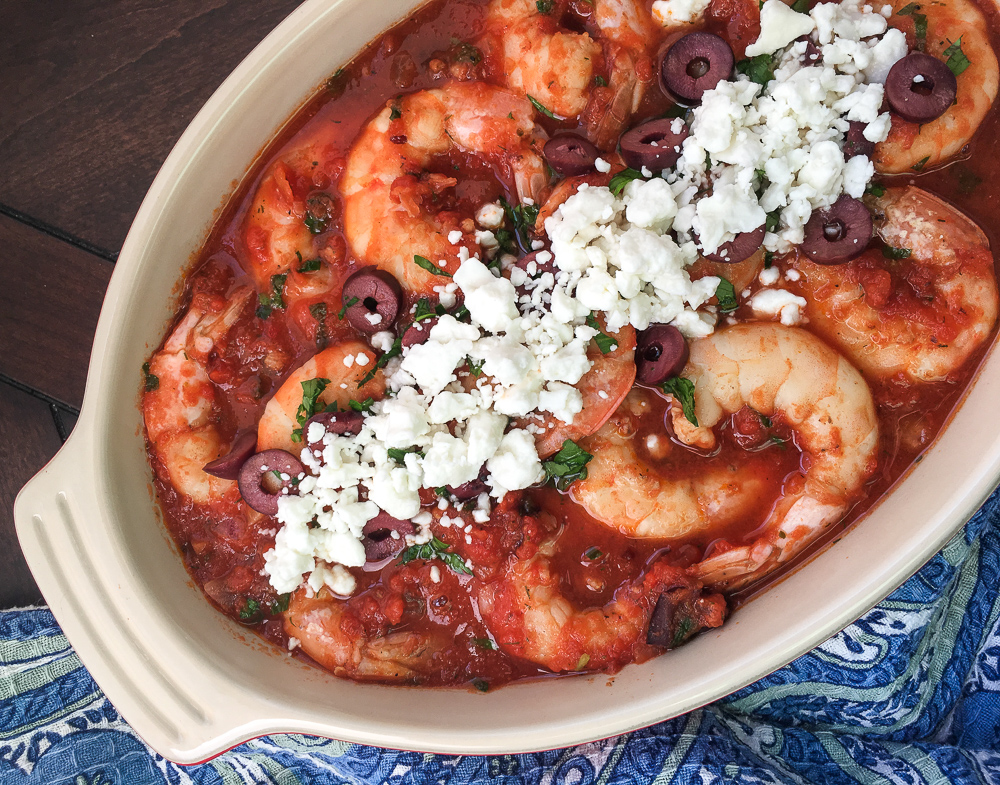 Step by Step Instructions
Step 1
Heat olive oil in a large skillet over medium-high heat. Add garlic and red onion and cook, stirring occasionally, for 3-4 minutes, or until the onion softens and starts to turn golden brown.
Step 2
Add white wine to deglaze the bottom of the skillet, scraping up any brown bits with a spatula.
Step 3
Reduce heat to medium and add crushed tomatoes, olives, dill, oregano, and red chili flakes. Season with Calizo Italian Seasoning. 
Season with additional salt and black pepper, to taste, and stir to combine.
Step 4
Simmer for 8-10 minutes, stirring occasionally. Add shrimp and 2 tablespoons of the parsley. Cook for 3-4 minutes, stirring occasionally, or until shrimp just turns pink. Do not overcook the shrimp.
Step 5
Remove from heat and adjust seasonings, to taste. To serve, transfer to a serving dish and top with remaining fresh parsley and crumbled Feta cheese.
Enjoy!