Portobello and Sage-Stuffed Acorn Squash
Cook time:
60 – 75 minutes
Introduction
About this Recipe
By: Linda Eads
This protein-packed stuffed acorn squash provides a healthy and tasty alternative to "traditional holiday" side dishes.
Crisp pancetta, rich Portobello mushrooms, sweet dates, and aromatic sage bring fabulous, yet diverse, flavor to every bite. As an added bonus, the lentils and walnuts make it more filling.
Ingredients:
3 acorn squash, cut in half and seeds removed
3 Tbs. extra virgin olive oil, divided
3-4 cloves garlic, finely minced
4 oz. pancetta, diced
1½ lbs. Portobello mushrooms, roughly chopped
½ medium yellow onion, thinly sliced
1 C. green lentils, cooked
1 1/2 Tbs. fresh sage, finely chopped
¼ C. dry red wine
1/3 C. dates, roughly chopped
¼ C. walnuts, chopped
¼ C. Parmesan cheese, freshly grated
Sea salt and pepper to taste
Tip:
Acorn squash seeds can be seasoned and toasted, just like pumpkin seeds. Reserve the seeds while preparing this recipe to enjoy as a healthy snack later.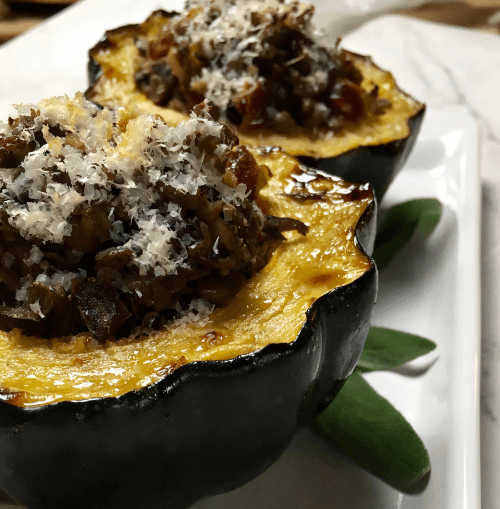 Step by Step Instructions
Step 1
Position oven rack to center position, then preheat oven to 400°F. Spray a large baking dish with non-stick cooking spray and set aside.
Step 2
Place the acorn squash halves cut side up in prepared baking dish and brush cut edges with one tablespoon olive oil. Season with salt and black pepper, to taste.
Place baking dish on center rack in pre-heated oven and roast for 40 minutes, or until the squash is fork tender.
Step 3
In the meantime, heat the remaining olive oil in a large skillet over medium heat. Add minced garlic and pancetta and cook, stirring occasionally, until slightly browned, approximately 2-3 minutes.
Step 4
Add chopped mushrooms and cook, stirring occasionally, until they start to brown, approximately 4-5 minutes.
Add sliced onions and continue cooking, stirring once or twice, for another 3-4 minutes.
Step 5
Stir green lentils, fresh sage, and red wine into the skillet. Cook, stirring occasionally, until mixture thickens, approximately 8-10 minutes. Remove from heat and stir in the chopped dates and toasted walnuts. Season with salt and black pepper, to taste.
Set aside.
Step 6
When ready, remove cooked squash from oven and cool slightly before filling each half with the Portobello mushroom mixture. Sprinkle each half with some freshly grated Parmesan cheese.
Step 7
Return stuffed squash to oven for another 5-10 minutes, or until heated through and the cheese starts to melt.
Remove from oven and serve immediately.
Godere!