Introduction
About this Recipe
By: Linda Eads
A ploughman's lunch is a UK cold meal based around bread, cheese, and onions. It is often accompanied by butter and pickles. Additional items such as ham, green salad, hard boiled eggs, and apple can be added.
As its name suggests, it is most commonly eaten at lunchtime. It is particularly associated with pubs, and often accompanied with beer.
I would suggest a modern take on this sandwich by replacing the sliced pickles with Calizo's Savory Olive Relish…also very green.
Ingredients:
2 Slices hearty rustic bread
2 Tbsp. Whole Grain Mustard (or Horseradish Spread)
4 Oz. Pastrami, thinly sliced
4 Oz. Dubliner Cheese or Sharp White Cheddar Cheese, thinly sliced
4 Slices Tomato
3-4 Cornichons or Sweet Gherkins, sliced lengthwise
3-4 Slices White Onion
2 C. Mixed Salad Greens
TIP:
Don't forget to add the Calizo Savory Olive Relish to your sandwich.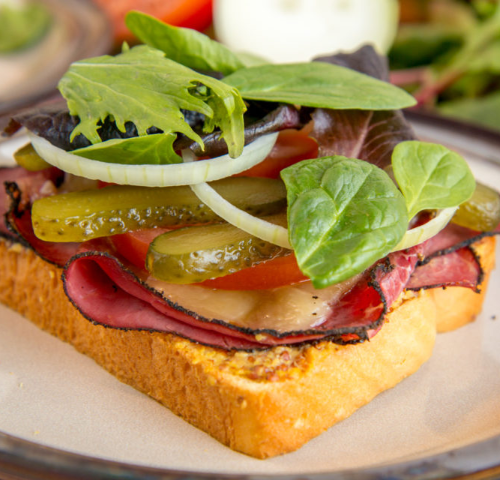 Step by Step Instructions
Step 1
Preheat oven to 350°F.
Step 2
Spread 1 tablespoon of whole grain mustard on each slice of bread.
Note: you can also substitute horseradish spread for the whole grain mustard.
Step 3
Top each slice of bread with the pastrami and cheese.
Step 4
Bake open-faced sandwiches in oven for 4-5 minutes until cheese is warm and slightly melted.
Step 5
Remove sandwiches from oven and top with sliced tomatoes, onions, olive relish, and mixed salad greens.
Step 6
Serve open-faced, handheld or with a fork and knife.
Godere!