Garden-Veggie Mason Jar Salad with Homemade Dressing
Introduction
About this Recipe
By: Linda Eads
The beauty of Mason jar salads is they offer the perfect solution for a satisfying, nutritious lunch on the go or as a quick and easy weeknight dinner.
The key to success with Mason jar salads is the order you add your ingredients. Always add the dressing first, followed by harder vegetables that won't break down from the dressing. Next, add softer, more tender vegetables and legumes. Last, but not least, add green leafy vegetables and fresh herbs on top so they don't get all soggy from the dressing. 
You can experiment and use any combination of ingredients you prefer.
Basic Balsamic Dressing:
2/3 c. extra virgin olive oil
1/3 c. good balsamic vinegar
2 Tbs. Dijon mustard
2 tsp. fresh oregano leaves
3 Tbs. fresh lime juice
1 Tbs. honey
1 tsp. Calizo Italian Seasoning, divided
Sea salt and black pepper, to taste
Salad Ingredients:
2 medium English cucumbers, chopped

2 large bell peppers, seeded, chopped  115-oz. can chickpeas, rinsed, drained

1 C. cherry or grape tomatoes, cut in half

2 heads Romaine lettuce, chopped

½ C. fresh parsley leaves, chopped

½ C. fresh basil leaves, chopped
Tip:
You can experiment and use any combination of ingredients you prefer. This vegetarian version is filled with fresh garden goodies, but don't hesitate to add your own touch in the form of cooked chicken or beef, rice, quinoa, beans, and/or your favorite types of cheese. Just be sure to add the softer ingredients toward the top to keep them nice and fresh!
Special Equipment:
6 quart-sized mason jars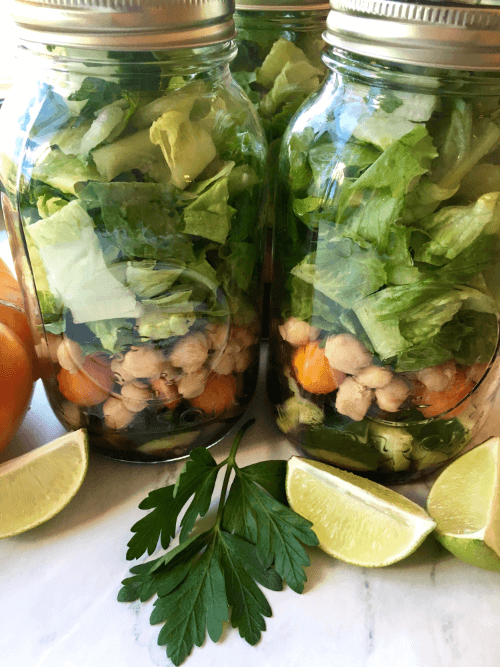 Step by Step Instructions
Step 1
To prepare the dressing, whisk the olive oil, vinegar, mustard, lime juice, and honey together in a small glass or other non-reactive bowl. Season with salt and pepper, to taste. Taste and adjust seasonings, as desired.
Set aside.
Step 2
Wash and pat dry all vegetables before prepping. Toss Romaine lettuce, parsley, and basil in a medium bowl to combine. Divide all vegetables into 6 equal portions and set aside.
Step 3
Divide dressing among the 6 mason jars. Add a layer of chopped cucumbers to each jar, followed by a layer of bell peppers. Next, add chickpeas and then the grape tomatoes. Top each jar with the lettuce-herb mixture and seal with a lid.
Step 4
Store salads in the refrigerator until ready to serve. Each salad will last 4-5 days.
To serve, remove from refrigerator and pour each jar into a salad bowl.
Enjoy!