Lemon Fig Olive Oil Cakes
Cook time:
18 – 22 minutes
Introduction
About this Recipe
By: Linda Eads
This recipe includes the Easy Homemade Vanilla Fig Jam recipe mentioned below.  Just select the link above for that recipe.
In the meantime, store-bought jam may be substituted, as well, if refined sugar is acceptable with your diet.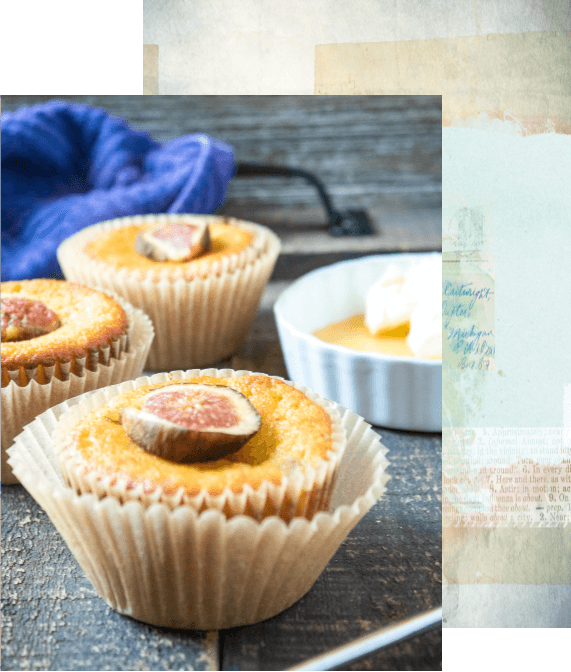 Ingredients:
Non-stick cooking spray

2 large eggs
¼ C. honey, preferably local
3 Tbs. extra-virgin olive oil
2 tsp. organic lemon zest
2 Tbs. fresh lemon juice
1¼ C. almond flour
½ tsp. baking powder
¼ tsp. baking soda
¼ tsp. salt
1/3 C. chopped figs
For serving, combine:
½ C. Mascarpone cheese
2 Tbs. honey, preferably local
*Easy Homemade Vanilla Fig Jam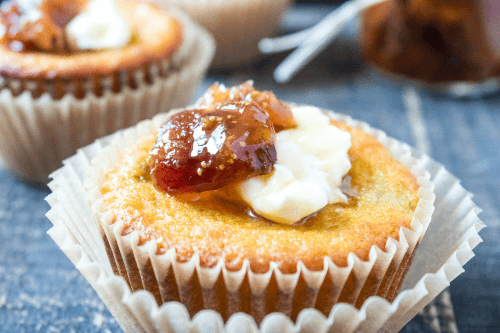 Step by Step Instructions
Step 1
Preheat oven to 350°F and spray 4 cups in a jumbo muffin tin with some non-stick spray. Set aside.
Note: You can also use a smaller muffin tin to make 6-8 cakes, if preferred. For smaller cakes, check for doneness after 15 minutes.
Step 2
In a large bowl, whisk together the eggs, honey, olive oil, lemon zest, and lemon juice until combined.
Set aside.
Step 3
In a separate bowl, whisk together the almond flour, baking powder, baking soda, and salt. Slowly fold the dry ingredients into the wet ingredients. Continue stirring until the batter is smooth and lump-free.
Step 4
Stir chopped figs into the batter until thoroughly incorporated. Divide batter between the 4 jumbo muffin cups and place the pre-heated oven to bake until the cakes are golden brown on top and a toothpick inserted into the center comes out clean, approximately 18-22 minutes.
Step 5
Remove from oven and cool for 5-10 minutes before removing from muffin tin. Serve immediately with some honey-sweetened mascarpone cheese and homemade vanilla fig jam, if desired.
Enjoy!