Grilled Corn & Cherry Tomato Salad
Introduction
About this Recipe
By: Linda Eads
This healthy and colorful side dish pairs particularly well with grilled meats and poultry, but you can serve it with just about any main course you prefer.
Ingredients:
*2 large ears fresh corn, husks and silk removed
1 Tbs. unsalted butter, melted
1 medium red onion, halved and cut into thick slices
1 lb. cherry or grape tomatoes, halved
1 large avocado, chopped
¼ C. fresh parsley, roughly chopped
3 Tbs. fresh lime juice
1 tsp. Calizo Italian Seasoning, divided
Sea salt and black pepper, to taste
Tip:
If fresh corn is not in season, substitute 1 cup frozen sweet corn prepared according to package instructions.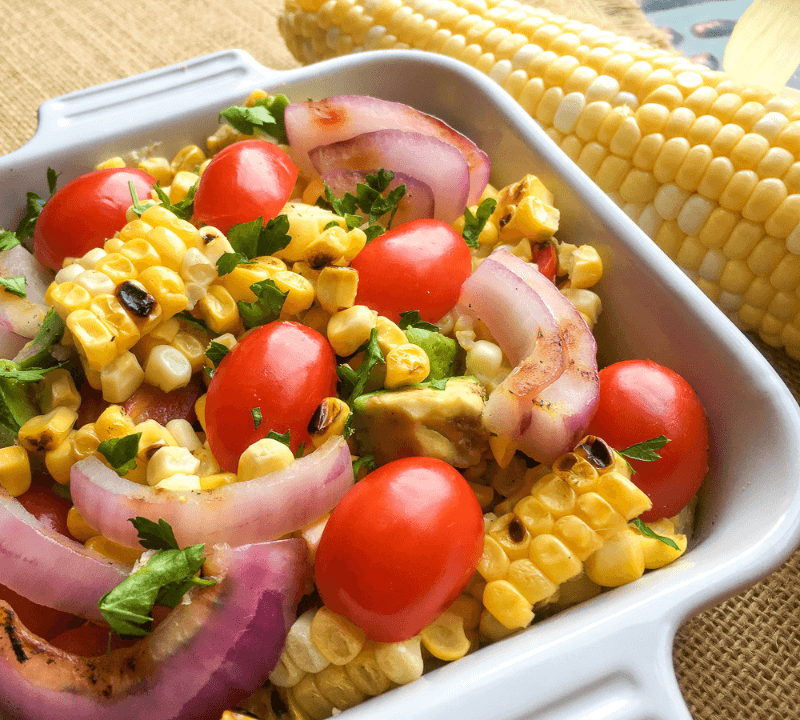 Step by Step Instructions
Step 1
Brush corn with melted butter before placing corn and red onion slices on a pre-heated gas grill over medium direct heat, or indoors on a grill pan sprayed with non-stick cooking spray set over medium-high heat.
Step 2
Cook corn until kernels are slightly charred, rotating one-quarter turn every couple of minutes until each side is done. Flip red onion once while the corn is cooking.
Remove vegetables from heat and slice kernels from cob with a sharp knife.
Discard cobs and transfer onions and corn kernels to a large salad bowl and set aside.  
Step 3
Add tomatoes, avocado, fresh parsley, and lime juice to the bowl. Season with Calizo Italian Seasoning, salt and black pepper, to taste, and toss gently to combine. Serve immediately with your choice of main dish.
Enjoy!