Garlic and Chive Cauliflower Mash
Introduction
About this Recipe
By: Linda Eads
This flavorful cauliflower mash pairs well with a wide range of beef, pork, chicken, and plant-based entrees.
Plus, it comes together in under 30 minutes.  This makes it perfect for those busy weeknights when you want to get a healthy dinner on the table without too much fuss.
Ingredients:
1 medium cauliflower head, florets only
2-3 whole garlic cloves, peeled
2Tbs. extra virgin olive oil

2 Tbs. unsweetened almond milk
1 tsp. garlic powder
1 Tbs. Calizo Italian Seasoning
Sea salt and black pepper, to taste
3 Tbs. fresh chives, chopped
Tip:
Steaming the garlic along with the cauliflower will remove the raw edge and make it tenderer.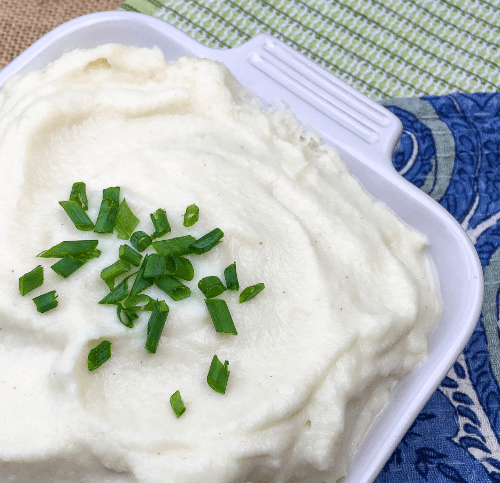 Step by Step Instructions
Step 1
Place the cauliflower florets and the garlic cloves into a steamer basket set over a pot of gently boiling water.
Cover and steam until the cauliflower is fork-tender, around 15 minutes.
Step 2
Transfer the cauliflower and garlic to a food processor or blender and add the olive oil, almond milk, garlic powder, and Calizo Italian Seasoning.
Season with salt and black pepper, to taste, and process until smooth and creamy. Taste and adjust the seasonings, as desired.
Step 3
Transfer to a serving bowl and top with fresh chives before serving.
Godere!