Calizo Thick-Cut Pork Chops with Roasted Grapes and Fennel
Cook time:
20 – 25 minutes
Introduction
About this Recipe
By: Linda Eads
Super simple pork chop recipe that looks like you took all day prepping for the meal.
Great anytime of the year!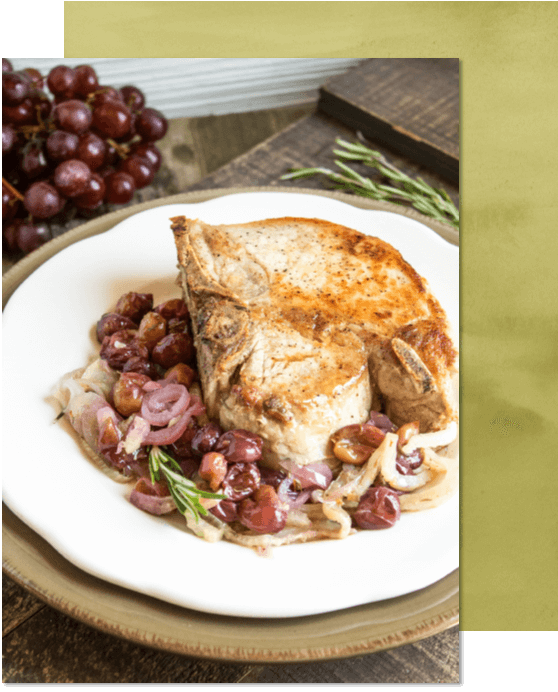 Ingredients:
4 thick-cut bone-in pork chops (approximately 1″ thick)
1/4 C. extra virgin olive oil, divided
Calizo Italian Herbs Seasoning, to taste
Sea salt and black pepper, to taste
1 tsp dried thyme
2 sprigs fresh rosemary
3 C. red seedless grapes
½ medium fennel bulb, thinly sliced
1 Tbs. Dijon mustard
TIP:
For more consistent results, allow pork chops to sit at room temperature for 30 minutes prior to cooking.
Step by Step Instructions
Step 1
Place top oven rack in the center position and pre-heat oven to 400°F.
Step 2
Arrange the sliced fennel, shallots, and grapes on a large, rimmed baking sheet. Sprinkle with dried thyme and season with salt and black pepper, to taste.
Drizzle with 2 tablespoons olive oil and toss to combine.
Step 3
Nestle the rosemary sprigs amongst the vegetables and grapes before placing the baking sheet in the pre-heated oven. Roast until the fennel is fork tender and the grapes are nicely blistered and juicy, approximately 20-25 minutes.
Remove baking sheet from oven and set aside.
Step 4
In the meantime, heat the remaining olive oil in a large skillet over medium heat. Lightly brush the pork chops with the mustard and season with Calizo Italian Herbs Seasoning, salt and black pepper, to taste.
Step 5
Add the seasoned chops to the hot skillet and sear until a nice crust forms. Reduce heat slightly and continue cooking until the chops are cooked through, but still juicy, approximately 7-9 minutes per side. (Actual cooking time will vary depending on how thick the chops are and the internal temperature of the chops before cooking).
Note: Pork should reach an internal temperature of 145°F before serving. Use an instant-read thermometer to confirm the pork has reached approximately 140°F before removing from heat. The internal temperature will continue to rise while the pork rests.
Step 6
Remove the skillet from heat and loosely cover the chops. Allow chops to rest for 5 minutes before serving along with the roasted fennel and grapes.
Godere!