Baked Brie with Calizo Savory Berry Compote and Walnuts
Introduction
About this Recipe
By: Linda Eads
A quick and easy appetizer using one of my favorite products, the Savory Berry Compote.
By adding the cranberries and walnuts it makes this baked brie so festive!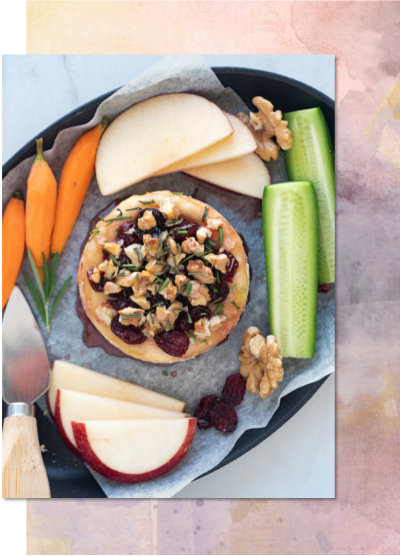 Ingredients:
1 8 oz. brie cheese wheel
½ C. Calizo Savory Berry Compote
1 Tbs. dried cranberries (Craisins)
½ C. walnuts, roughly chopped
1 Tbs. honey, preferably local
2 rosemary sprigs
To Serve:
1 French baguette, warmed and sliced on the diagonal
Fresh vegetables for dipping such as baby carrots, celery, cucumber rounds
Step by Step Instructions
Step 1
Preheat the oven to 350 degrees F. Line a rimmed baking sheet with a piece of parchment paper.
Step 2
Place the brie on the prepared baking sheet and transfer it to the oven to bake for 10 minutes.
Step 3
Remove brie from the oven, and using two forks, gently expose the creamy layer beneath the crusty top of the cheese.
Step 4
Spread the Calizo Savory Berry Compote on top of the cheese, followed by the dried cranberries and walnuts. Drizzle with honey and top with fresh rosemary.
Step 5
Return brie in the oven and bake for another 5-10 minutes or until all the toppings are warm and the brie is heated to your desired temperature.
Step 6
Serve the baked brie on a decorative platter alongside sliced baguette and vegetable dippers.
Enjoy!